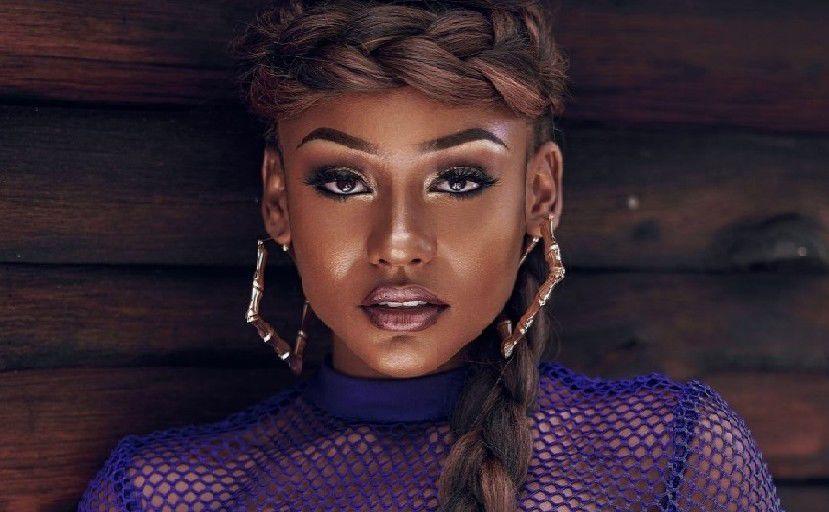 DE TING officially start. Put away de ham, pack away the Daisy records and dust off yuh cooler because the chip towards Carnival 2019 has begun.
It's going to be a long season. Carnival Monday is 67 days away (March 4). The good news is we already have a bag full of spanking new soca hits to fuel the pump.
Leading the march is Nadia Batson and Farmer Nappy (Darryl Henry) with 'So Long' and 'Hookin' Meh', respectively, on the Purple Heart Riddim. Both songs were penned by Batson and are already popular both on radio and the party circuit.
A modest Batson said she is genuinely happy for the love her music is receiving during informal chat with the Express backstage Nailah Blackman's 'Iron Love' concert, on December 8, at the Brian Lara Cricket Academy in Tarouba.
'It's good to be appreciated. I am thankful for the feedback,' Batson said between posing for photos with her adoring public.
Nailah's 'Iron Love', a remake of her grandfather Ras Shorty I's (Garflield Blackman) 'Cory Iron' is also in the running for the best groovy song of the season. Nailah brings a sweetness to everything she touches and together with producer Anson Soverall have done it yet again.
Farmer set for a good crop
Farmer Nappy looks set to have a good harvest in 2019. Apart from his danceable plea for a second chance from his lady on 'Hookin Meh' he has a sure Carnival anthem in his collaboration with long-time friend and former bandmate Machel Montano: 'Day One'.
Written by Kambon Rigault the song, an ode to old friendships, has all the elements of a fete monster hit. A riveting bassline, an easy-tosing- along melody and the hype of Double M. Add the nostalgia of the childhood duo reuniting on stage and we can already see the 'mash up' at Machel Monday. Fine like chili-bibi.
Montano has also released two singles for the upcoming festival: 'Toco Loco' and 'Brace Up' on Jamaican TJ Records' Toco Loco and Keshav and Rakka's Badang Riddim, respectively. 'Toco Loco' is one of those songs that sneak up on you and you find yourself randomly humming the medley in the shower. 'Brace Up' is more in your face in true Monk style. Both are already 'through the gate' as they say.
Talking about 'through the gate' Shal Marshall (Stephenson Marshall), who incidentally coined that phrase, is already 'inside' with the very popular 'Party We Love'. The 'Splinters' singer has said his mission in life is to create an impressive repertoire of music. Judging from his consistency over the past four to five years he is well on his way to achieving that lifelong dream.
Iwer makes a bacchanal
Iwer George, meanwhile, has come out shooting from the hip with his 'Road March Bachannal 2'. Admittedly Iwer is an acquired taste. His minimalist lyrics atop raw dated soca beats has made him a polarising figure in the genre for decades. But there is something about a good rivalry that cannot be understated. And calling out Machel Montano is a smart move for the backward-baseball- cap-wearing hype man. He sings: On the stage was a next seta drama/The DJs and dem playing Savannah/ But when the mafia com/ They Switchin' from Savannah to Kingdom/They join forces to win the big fight/This year yuh have to team up with Jesus Christ/The whole place mash up.
Kerwin Du Bois is definitely in the running for best soca comeback with his 'Speechless' and 'Soca Demon'.
Du Bois, who has been relatively quiet during the past two festivals, is making lots of noise with the hit making collaboration with Voice, Teddyson John and Lyrikal (Devon Martin). The music video for the project, shot in Cuba, looks like a million dollar production and may quite possibly be the best soca music video we've ever seen.
Anybody with ears can tell 'Soca Demon' is a monster hit. Skillfully written with a big full-sounding backing track Du Bois seems to have found the answer to his unmatchable 'Too Real'.
Voice sets up Soca Monarch four-peat
Voice (Aaron St Louis) already looks a shoo-in for a fourth successive International Soca Monarch title, i.e. if there is a Soca Monarch in 2019 (keep watching this space). The 'Alive and Well' singer is also an early favourite for the National Calypso Monarch title after finishing second last year to winner Helon Francis.
Where Voice has stayed consistent, a local rapper is breaking new ground. Chromatics has already released four songs for the season including the controversial 'Lie Down' which takes a shot at rap duo Freetown. The gifted lyricist singles 'My Type' and 'Bigger Dan Dem' on the Beng and Badang riddim are soca/rapso gems in the making.
Speaking of gifted lyricists Bunji Garlin (Ian Alvarez) is back to his old literary tricks with 'See Meh' and 'The Cooler' on the Foli and Beng Riddims, respectively. He finds a balance that can appease his biggest fans and harshest critics on the skillfully crafted tracks.
GBM Nutron, Kees and Blaxx round off our list of top soca picks, so far for 2019. GBM's musically stripped down 'Practice' and Kees' groovy 'Love It' on the Advokit-produced Twin Flame Riddim is especially popular with the ladies. The former features an interesting sample of Lord Kitchener's (Aldwyn Roberts) 'Sugar Bum Bum'.
Blaxx, meanwhile, has the bachannal chune of the season with 'Gyal Owner'. The song warns men to keep a close eye on their girlfriend as 'somebody go touch it fuh you'. He sings: You could hold she close if yuh want/She go give it to who she want/Yuh could buy her drinks if she want/She go give it to who she want/My yute yuh doh own it.
TOP PICKS:
Voice – 'Alive & Well'

Nailah Blackman – 'Iron Love'

Nadia Batson – 'So Long'

Farmer Nappy – 'Hookin' Meh'

Machel Montano – 'Brace Up'

Machel Montano – 'Toco Loco'

Fay-Ann Lyons-Alvarez – 'Feel Good'

Farmer Nappy & Machel – 'Day One'

Bunji Garlin – 'The Cooler'

GBM Nutron – 'Practice'

Kerwin Du Bois – 'Soca Demon'

Kes – 'Love It'

Iwer George – 'Road March Bacchanal 2'

Chromatics – 'Lie Down'

Chromatics – 'My Type'

Sekon Sta – 'I Swear'

Shal Marshall – 'Party We Love'

Blaxx – 'Gyal Owner'

Erphaan Alves – 'Blaze In Love'

Kerwin Du Bois x Voice x Teddyson John x Lyrkial – 'Speechless'
NEW RELEASES TODAY:
Chuck Gordon – 'Portigal'

Nailah Blackman - 'Games'

Nailah Blackman - 'We Ready'

Revelation - 'Road General'

Gregory Ayune (Karma) 'Personal'