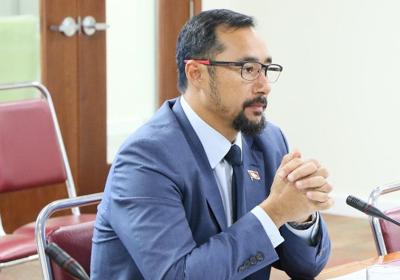 Eight years after it was proposed, glass bottles will officially be banned this Carnival Monday and Tuesday.
Minister of National Security Stuart Young made the announcement yesterday during a news conference at the ministry's office at Abercromby Street, Port of Spain.
"The Government took a decision to ban the use of glass bottles and prohibit the use of glass bottles during the specific Carnival period for 2020. This period will be starting at 4 a.m. on Carnival Monday, which as we know is Jouvert, and will be carrying straight through to midnight on Carnival Tuesday.
"It is a ban on glass bottles on the streets other than by persons who are authorised to possess glass bottles within the vicinity of Carnival events throughout Trinidad and Tobago," Young said.
He hoped the decision was the start of a new protocol and will be repeated in the future, regardless of which government is in charge.
Young was supported by Commissioner of Police Gary Griffith, acting Chief Fire Officer Siewnarine Ram, National Carnival Commission chairman Ulric Miller, general manager of the Solid Waste Management Company Ltd David ­Manswell, PanTrinbago representative Gerard Mendez, T&T Beverage Alcohol Alliance's Jamel Hunte and Antron Forte from Carib Brewery.
Young said the group had agreed to be present during the official announcement to show a unified front and support for the decision.
"At the end of Carnival 2019, which I dare say was one of the safest Carnivals we've had in quite a long time, and we are looking to improve on that this year, I indicated that on the advice and suggestions of many persons, including the commissioner of police, that we would be looking at banning glass bottles for 2020. And I am happy to say now that, after consultation with our major stakeholders, it was unanimous that this was a step in the right direction," Young said.
He said the initiative was being called "Clean Scene, Safe Scene".