The Ponce Carnival (Carnaval de Ponce or Carnaval Ponceño, in Spanish) is an annual week-long celebration. There are parades with wildly decorated floats, crazy costumed people, lots of music, loads of spectators, and merriment.
Similar to Mardi Gras in New Orleans, it is derived from the old world tradition of a final celebration before the beginning of Lent. But over time, it has transformed into a week-long party!
If you want to party Puerto Rican style, mark your calendars — The 159th Ponce Carnival will be February 22-February 28th, 2017.
If you plan to attend the Ponce Carnival, you should expect to see loud and colorful parades, with marching bands, with dancers and floats. The parades are similar to those held around the island throughout the year at other town festivals or Carnivals — but on steroids!
Central to the festivities in Ponce are the vejigantes — masked, colorfully-dressed, clown-like characters, wearing paper mâché masks with scary teeth & horns — dancing and strutting to bomba and plena music. They may swat bystanders with soft balloons (supposedly to chase away the evil spirits) as they go by.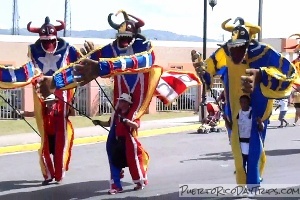 There will be lots of bomba and plena music, and many of the interactive, chanting songs. Before and after the parades, there will be other live music at stages throughout the evenings.
The schedule is basically the same from year to year. The most popular events are the huge parade on Sunday, and the burial on Tuesday, but each night has great activities.
The events take place, and the parades end, at the main stage on front of the Ponce City Hall (Casa Alcalde) at the town plaza, Plaza las Delicias. This is the same plaza where the where the famous black and red firehouse is located.
We hear that the town of Ponce will have free buses going around town to help move people, so hopefully traffic will be reduced. Note to Poncenerios: check the bus routes!