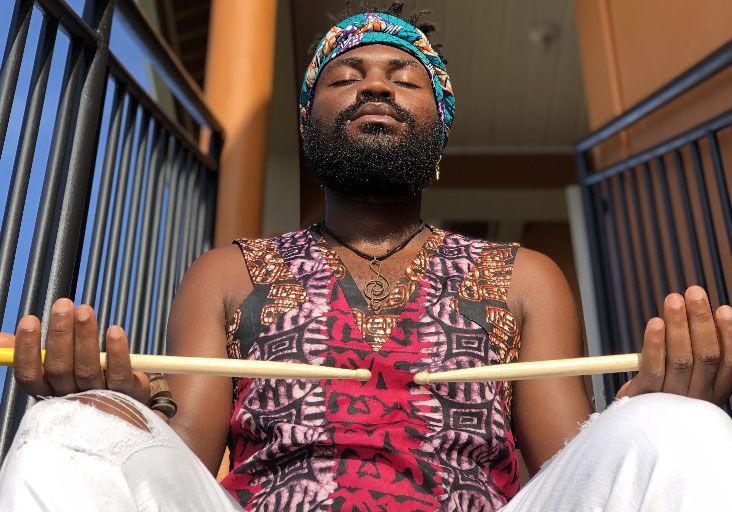 JUST when you think you've heard every genre of music that could be dreamed of and conceived, another artiste arrives on the scene and gives you reason to think again. That was the case when the band Ja Moi Kollekssun took to the stage as guest artistes at the show "Vaughnette Bigford Live in Concert" and blew the audience away with their rousing, energetic performance.
Ja Moi Kollekssun is like nothing you've seen or heard of before, their music coined 'Ja Moi Musik' fuses calypso, mouth percussion and indigenous African melodies and chanting.
The concert on November 9 may have been the first time Ja Moi Kollekssun performed as a band on stage but its frontman Khalen JaMoi Alexander has been making music since he was a child. At just two years old, Ja Moi was already drumming on milk tins and cardboard boxes. Drumming entertained Ja Moi but as he got older it also became a form of therapy.
"I grew up on Easter Field Road, Mason Hall (Tobago); there were many arguments and fights in my yard. I remember going into my room and playing as loud as I could to block out the noise and the fighting," he says.
Music also helped him overcome his fear of speaking. As a child Ja Moi had a problem with stuttering. But as he learned to sing to the melody of his drumming, he gained confidence when it came time to express himself. While attending secondary school Ja Moi excelled in track and field and even represented T&T at Carifta Games. But his heart belonged to music. It was Ja Moi's dream to become a touring musician and to perform with entertainers like Machel Montano. He played with steelbands between both islands and at calypso tents where he was eventually discovered by Lyndon Rowley. So began his foray into the soca world. He worked with Bunji Garlin (Ian Alvarez), Biggie Irie (Carlton Cordle) and Machel Montano.
"The journey into the soca world was good but I still felt empty inside, I felt as if something was missing," he said.
Discovering Anderson Paak's music was a turning point for Ja Moi. It convinced him that it was possible to bring drumming and singing under one act. Over the past two years the 31-year-old has gone through life-changing events which have filled him with a greater appreciation for his roots and music. The singer, songwriter, drummer and arranger founded his band Ja Moi Kollekssun and has since embarked on a mission of liberation and healing through artistic expression.
His brand of music is quickly morphing into a movement.
In 2018 he founded the content creation company Riddim Nation Collective and headlined and directed two independent musical productions Riddim Nation and Modern Afrika. He has also taken his developmental programme "Riddim Therapy" on the road, exposing differently-abled children and adults in Tobago to the therapeutic benefits of music. As news of their popularity spread, Ja Moi and the company's creative director Reynel Clarke Alexander were asked to conduct a three-day Riddim Therapy workshop in Hamburg, Germany. They conducted practical exercises geared towards improving concentration while exposing the pupils to the Tobago oral tradition of Speech Band.
Ja Moi is ready to take his music to the world, but his goals for the immediate future include having Riddim Therapy in primary and secondary schools. The University of Trinidad and Tobago (UTT) Fine Arts graduate has plans to introduce workshops on African drumming and his own musical styling and he is already advertising the third annual Riddim Nation Music Festival carded for April 4, 2020 which will bring together music, dance and art. Ja Moi is also inviting interested persons to join him for Riddim Therapy every Wednesday afternoon and full moon at Healing with Horses in Buccoo, Tobago.