Fears are growing over an increasingly febrile security situation in Haiti after police and soldiers fought a deadly gun battle which lasted for hours outside the country's presidential palace.
The exchange of gunfire on Sunday shattered the opening of Haiti's annual carnival as police and soldiers exchanged volleys of gunfire sending bystanders diving for cover.
One soldier died of his wounds on Monday and at least three police officers were wounded.
Shooting continued into the night, and in the immediate aftermath, authorities in the impoverished Caribbean country announced the cancellation of the carnival warning of the risk of a "bloodbath".
The violence broke out when protesting police officers, some in plainclothes and wearing masks, used the opening of the carnival to stage the latest in a series of demonstrations against poor work conditions and demanding to be allowed to unionize.
Armed off-duty police officers protest over pay and working conditions in Port-au-Prince on Sunday. Photograph: Dieu Nalio Chery/AP
As the protesters were stopped by soldiers near the imposing white building of the presidential palace the two sides began firing at each other.
Caraibes, a local radio and television station also came under attack.
Some reports suggested that the gun battle began when demonstrating police officers shot into the air. As the exchanges became more serious it appears that fire was directed into the square from a prominent tower nearby.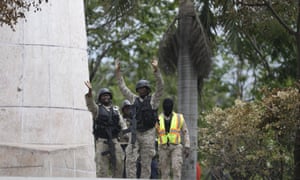 Officers gesture for all sides to cease fire during a clash in Port-au-Prince on Sunday. Photograph: Dieu Nalio Chery/AP