Twelve groups that regularly feature in Hackney Carnival are to produce a series of films for a virtual edition this summer.
It follows the Town Hall's recent announcement that the annual September parade will not take place this year as it focuses resources on the coronavirus crisis.
To make up for the loss, the council is funding carnival groups to make a collection of films which best showcase their usual performances.
These efforts will form Hackney Carnival At Home, which will be hosted on the carnival's Facebook page, the Love Hackney website, and globalcarnivalz.com in early summer.
It means residents will be able to enjoy an earlier and longer version of the carnival, which usually takes places over a single day.
Cllr Guy Nicholson, Hackney's culture chief, said: "The Hackney Carnival is one of the borough's biggest and most anticipated events in our community's cultural calendar but this year in these exceptional times, we have had to postpone the parade in its traditional form.
"Despite this, it's been great to see so many of our carnival groups respond to the challenge and bring us the carnival spirit online."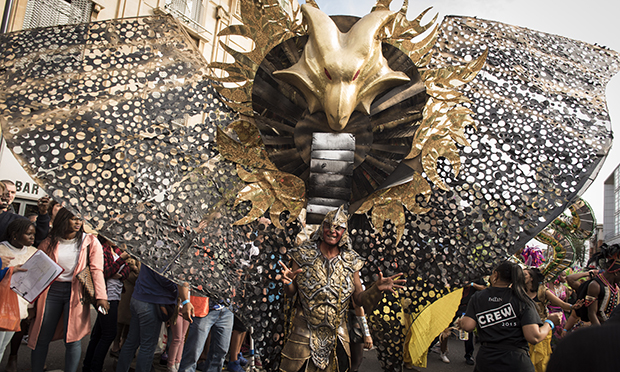 Participants often wear dramatic and intricate creations.
Photograph: Hackney Council / Sean Pollock
The groups' films will be released in two waves, one in early summer and another in late summer.
The first batch will include arts and craft tutorials from Jun Mo Generation, sailor outfit designing from Soca Massive Fancy Sailors UK, and dance workouts courtesy of Tropical Isles and Dimensions Entertainment.
Pantonic Steel Orchestra will also give viewers an inside peek into how it chooses and arranges its calypso and soca steel pan tunes.
Other groups taking part include Taru Arts, Blema Dancers, Soca Sagaboys, Yaram Arts, Urban Touch, Jamboulay Carnival Arts Promotion and Paracarnival.
Details on the second collection of films are expected to follow soon.
The project involves the curation and delivery of a wealth of online content, so the council assembled an elite team of carnival veterans to help.
It features Marva Antoine from award-winning carnival arts organisation Tropical Isles, Pax Nindi, chief executive of Global Carnivalz and former creative director of Hackney Carnival, independent arts consultant Deb Mullins, and choreographer, carnival artist and producer Manuela Benini. 
In a joint statement, the team said: "It's been great to work together to give Hackney Carnival an online presence and channel the passion and talent from the carnival groups who would usually be busy gearing up for the parade.
"Through Hackney Carnival At Home, we can showcase our carnival groups' eclectic skills for a more intimate, accessible and behind-the-scenes insight into the work that goes into delivering the carnival experience.
"The online offering also means that, for the first time, people from anywhere in the world can access a taste of the Hackney Carnival experience and it will provide an exciting look ahead to 2021 when we hope to be together again."
The council says the films will complement a series of online cultural activities it has funded, including the forthcoming Windrush Generations Festival and the efforts of Discover Young Hackney, which is supporting the borough's artistic community during lockdown.
Hackney Carnival at Home will be available to watch on lovehackney.uk/carnival, globalcarnivalz.com and the Hackney Carnival Facebook Page, where you can also keep up to date with announcements