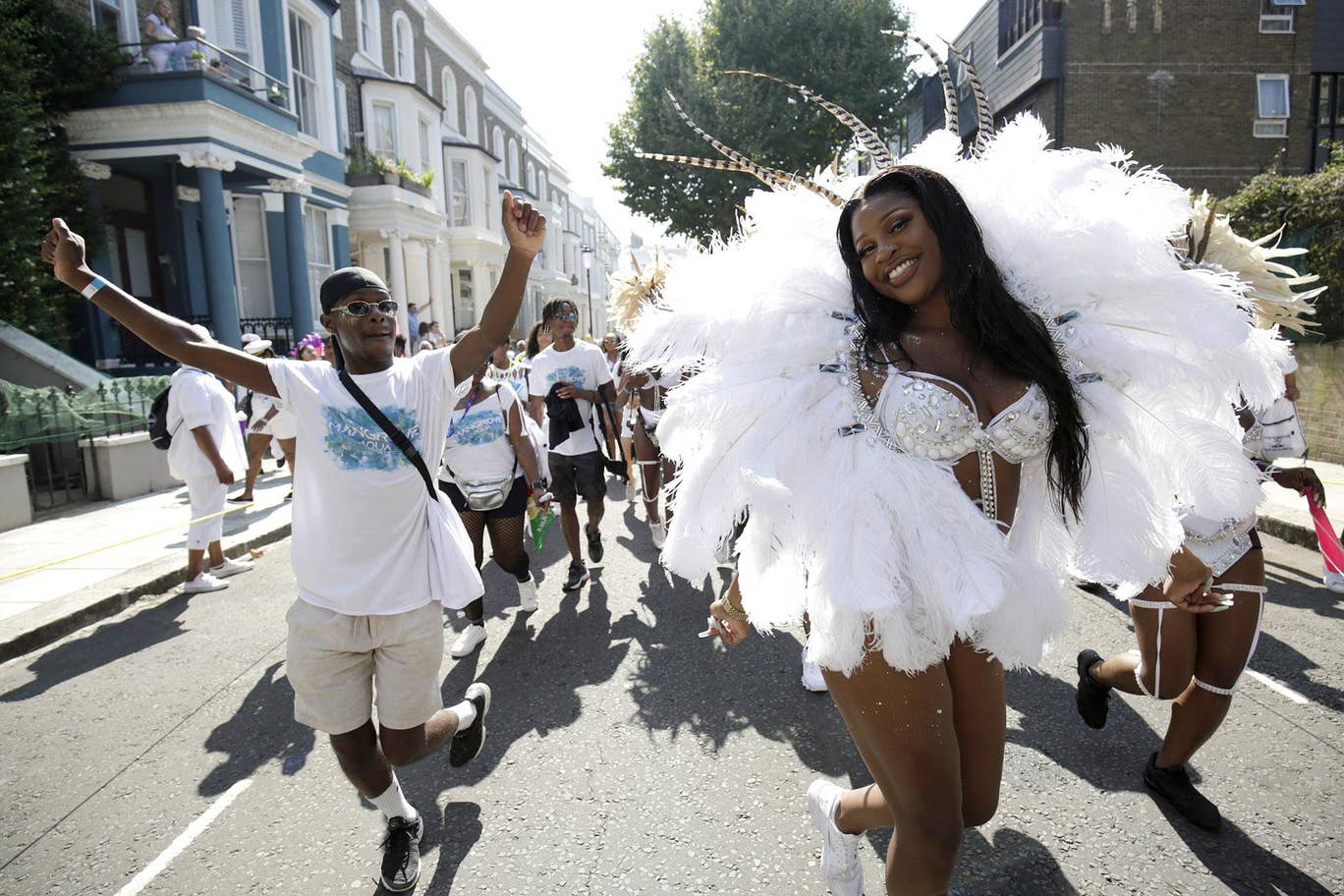 I've lost count of the number of times I've walked down the colourful, sweaty streets that make up Notting Hill Carnival over the years. I've lived a 10-minute walk from the event, perhaps my favourite of the year, all my life. I've "chipped" (another way to describe moving in rhythm to the beat of the music as you make your way through the festivities) down the road; gleefully danced with energetic revellers, sung along to new and old Soca hits, high on life and the warm buzz of lukewarm rum and Ting. 
But this year, after years of creeping commercialisation and changes that, to those who aren't familiar with carnival, seem small, but in reality threaten to leave the fundamental parts of the annual event in the dust, I've had enough. 
Not of the institution of carnival, of course. As a northwest Londoner of Caribbean descent – Jamaican and Antiguan – I, like thousands of others, literally start counting down the days to carnival months before summer has settled. No, what I've had enough of is the loss of the essence that makes carnival what it is in the first place. 
I'll start with the sound systems. An import of Jamaica, these booming staples of carnival have been around almost since its origin. Though many are thankfully run by collectives that have frequented and shaped carnival for decades, the rising popularity of others, many of which play nary a remotely Caribbean tune over the weekend, is concerning. 
To be clear, sound systems haven't always exclusively played the many iterations of reggae or Soca for the entirety of the history of carnival. And I don't necessarily think they all have to. But it wasn't just the heat that forced me to slug around the streets this weekend – it was the dearth of any music (besides the mas bands) that sounded like it belonged there.
There was techno stage after techno stage, a little trap, some Afrobeats, house, gospel and more. None of which I inherently dislike, but none of which I was particularly ecstatic to hear completely overtake the music I'd been blasting at home in the run-up to the event. 
And that's not to say everyone felt the same. I watched bustling, mixed crowds jump along to hypnotic, electronic dance, their arms permanently in the air in appreciation of what, to me, sounded like white noise. People were enjoying the break from tradition in the same way that they, though I've never understood why, enjoy wearing plastic colourful garlands around their necks come carnival time.
Guzzling overpriced Red Stripe cans, these people lapped up the relentless blast of the music that couldn't have less to do with its surroundings if it tried, and they were overjoyed while they were doing it too. 
As lovely as that is, however, Notting Hill Carnival, it bears repeating, is not the equivalent of O2 Wireless, or Lovebox. It is not a generic festival, there to give everyone a chance to enjoy whatever their favourite genre of music happens to be, or to dance from inside the confines of a gated area after having secured a wristband. It is a street party, first and foremost, dedicated to celebrating Caribbean culture in all its forms and resistance against racism and brutality. And that's what it should continue to be. 
There are many origin stories of Notting Hill carnival, all of which speak directly to the cultures that make me who I am. But events like the Notting Hill riots, or the story of Kelso Cochrane, an Antiguan immigrant murdered in a racist attack a year later, and the response to it (which in part lead to carnival as we know it), are a huge part of the reason carnival means so much to me and so many others.
So to watch Red Bull or Bacardi – or whatever the next brand is to have their own stage which was formerly open, public space – so easily disregard the spirit of community by facilitating VIP or exclusive experiences is disheartening. 
I am by no means coming at this from a purist, holier than thou position. Nor am I arguing that carnival should stick to a rigid formula for as long as it continues to exist (before another Tory-led petition inevitably threatens, yet again, to overtake it completely). Full disclosure: I've taken advantage of the press passes and free drinks offered at a couple of these events in the past. I've danced at hip-hop and grime stages, a small part of me once enjoyed people-watching the usual types that tend to flock to the sound systems I'd usually walk past.
But when events like Panorama – the steel-pan competition the night before carnival – become unrecognisable; when it's harder for me to hear Soca than it is for me to brush past white people with dreadlocks; when people, for the second year running, are far more interested in chatting through the three-minute silence for Grenfell Tower victims, than they have ever been in taking seriously the many tragic events that underpin the two-day festivities they've come to enjoy, it's clear something has to change. 
I'm not wasting my time on the sound systems next year. I'd much rather play mas (wear a costume as part of a band). But not everyone can afford the (often very high) costs of holding on to or partaking in that experience. Nor should they feel forced to. 
It's time the organisers of Notting Hill Carnival pushed harder for those they let shape the event each year to demonstrably celebrate Caribbean culture as a requirement. It won't bring back the freer, less restricted version of Carnival I grew up loving, but it would be a start.