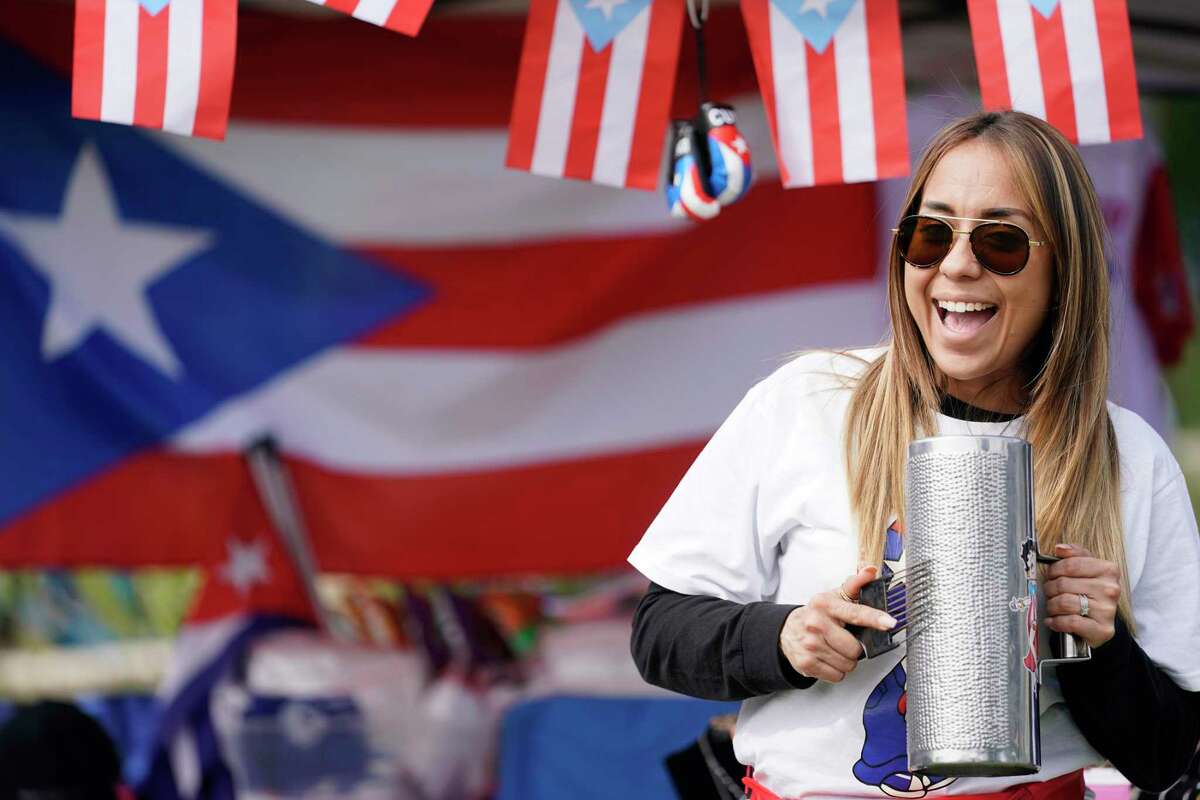 In a sea of people clad in red, white and blue, the flag colors of three Spanish-speaking Caribbean countries, Gabriel Albelo stood out with his orange Houston Astros baseball cap Saturday afternoon as he walked around Midtown Park.
The 31-year-old machinist from Cuba joined roughly 20,000 others at the 13th annual Puerto Rican and Cuban Festival to celebrate both countries and the Dominican Republic. Albelo made his way to the festival since an expected World Series victory parade in downtown Houston this weekend was not to be.
"It was hard to watch," Albelo said of the Astros' ultimate defeat Wednesday.
He was overjoyed when in the series' Game 7 against the Washington Nationals, his favorite player, the first baseman and fellow Cuban Yuli Gurriel, hit a home run. Halfway through the game, as the Astros led 2-0, Albelo was convinced another championship was secured.
Eventually, however, the Nationals made a comeback, as a second World Series title eluded the Astros.
"We had the game, but for some reason or other we let that game go away," he said.
Despite the disappointment of the Astros fans in attendance, the park's mood was a celebratory one, punctuated by upbeat music featuring trumpets and saxophones streamed from the main stage. More than 80 local performers were scheduled to showcase their talents.
Houston salsa dance duo Team Double Ds pounded the stage with hurried footwork to a couple of bachata genre songs. Daniel Hernandez, speedily twirled his dance partner, Daisy Aguilar, who was decked out in a baby blue leotard bedazzled in white rhinestones.
Making their debut at the festival, Hernandez, 33, and Aguilar, 29, are of Mexican descent, but were drawn to Latino Caribbean music genres when they started performing more than five years ago. The pair consider events like these fruitful for those looking to partake in what they consider to be the city's welcoming environment for Latino music.
"We're pretty fortunate that here in the Latin scene in Houston, you have pretty much any weekend and almost sometimes in the weekday, an opportunity to go dancing," Aguilar said.
At the end of the park's sprawling main lawn facing the performance stage, was Rafael Cartagena Torres, a native of Ponce, Puerto Rico. The 23-year-old, who has been living in Houston for five years, danced in place as he took sips of piña colada out of a pineapple. Sporting a thin coat advertising his roots with the U.S. commonwealth's name on it, he said he was also there to support the other two Hispanic countries of the Caribbean.
"It's an honor," Cartagena Torres said of being there.
Downtown skyscrapers peeking from above the stage could be seen from where Cartegena Torres swayed about. The park was framed by booths and tents from different vendors and food trucks. The sunny day saw attendees walk about the park waving small flags of the countries the festival highlights.
Sitting in a quiet corner on a bench was Rose Jones, 33, of Oakland, Calif. Visiting a friend in Houston, Jones learned of the event online. Of Nigerian, Filipino and Creole heritage, the tech-startup manager came to the park to embrace other cultures and take in a little bit of the traditions she has enjoyed on about four visits to Puerto Rico.
"The Puerto Rican culture is beautiful," Jones said, adding that Houston has been "very welcoming. It's huge, obviously, but I enjoy it a lot."
And the city has been an inviting place for Albelo, who made it his home 12 years ago. As he, his wife and their two small children snapped photos, Albelo said he remained confident the Astros will soon return a championship title to Houston.
"We love the Astros and we're gonna take it back next year," he said.