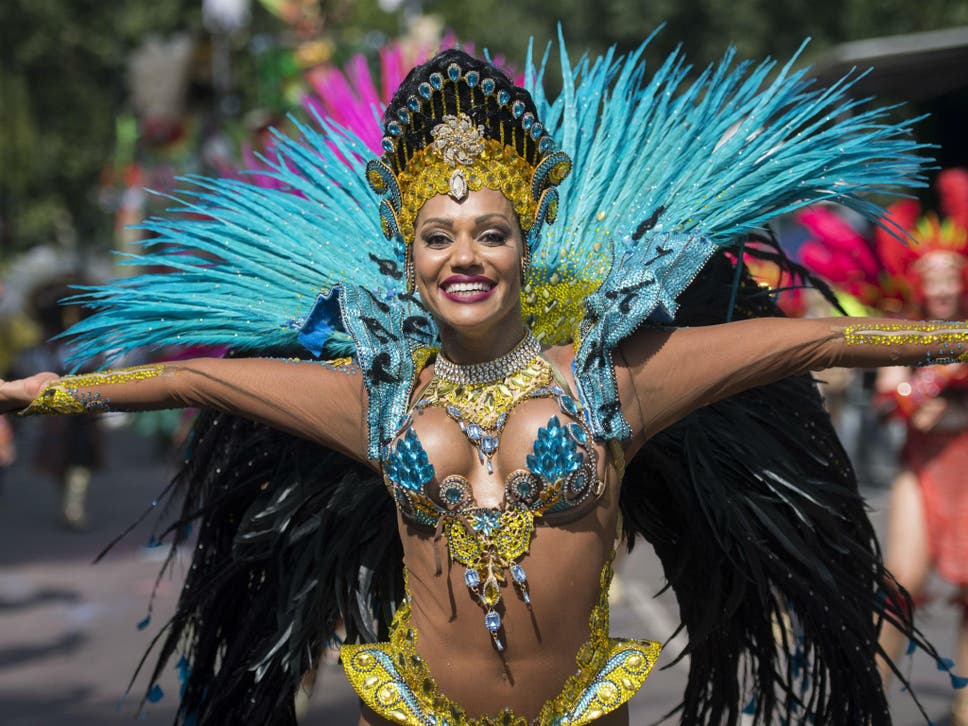 Notting Hill Carnival isn't for everyone. Given that the annual event draws around two million revellers each year, its sheer scale can be enough to put people off entirely.  
There are the usual complaints about crime (last year saw 300 arrests and 28 police officers injured over the weekend), traditionalists bemoaning its failure to remain "what it used to be", and attempts by carnival detractors to cull the celebration for good. 
However persuasive those arguments may be, it is far more rewarding to embrace Europe's largest street festival wholeheartedly. And the only way to do that is to do Carnival properly. 
I'm speaking as someone with a relative level of bias. I grew up a mere 10-minute walk away from one of the Kensal Rise/Ladbroke Grove entry points to the jubilation, and I can count on one hand the number of times that I've missed Carnival in my lifetime. It is one of the few places that allows for the melding of my Antiguan, Jamaican and British identities, while long-serving as an earlier, boozier alternative to Christmas for my group of friends.
If you avoid the usual rookie mistakes that tend to turn people off the event altogether, it could be the same for you. Here are some tips to keep in mind.
1) Do not come to Carnival in open-toed shoes. Or, for that matter, shoes you are particularly attached to
As well as the streams of urine and beer that line the roads and pavements after a few hours of unadulterated partying, there are all kinds of detritus from glass to food littering the ground. And you don't want your feet to come into contact with any of that.
2) There is very little point in following the floats for the entirety of the celebration unless you're in a carnival troupe
Yes, it's a parade, and yes, the routines and masquerades are mesmerising, but if you try to follow the parade for too long, you'll more than likely end up kettled somewhere in Westbourne Park. And that's never a good time. Instead, plan your route ahead of schedule using one of many maps and sound system guides (the official Notting Hill Carnival website has a great one) and head straight towards your sound system of choice on arrival. You'll see the troupes on the way regardless, and it will give you and your group a base should you become separated at any stage.
3) Buy alcohol, water, and anything else you plan on bringing, the day before
Drinks at Carnival are overpriced. Instead of paying upwards of £3 for a can of Red Stripe, go to your local shop the night before. If you're really dedicated, you can even make yourself an iced-cocktail of some kind to take with you. It will keep you cool and will make for a more refreshing drink than lukewarm rum and ginger beer. Take plenty of cash out the day before, too.
4) Bring a suitable bag, preferably a small backpack
Save yourself the hassle of carrying more than you can handle and bring a small backpack. You will thank yourself at the end when you're slugging it home.
5) Do not try to meet up with anyone at Carnival. You will not find them.
There is virtually no phone reception at Carnival, so unless you have the exact location and time down (and keeping to a schedule is pretty much impossible, thanks to the crowds), trying to meet up with someone when you get there is pointless. If you're lucky, you'll bump into someone you know at some stage, but that's as good as it'll ever get. Instead, meet up with your group beforehand.
6)  Keep up with your group when you're on the move – don't be the friend who disappears every five minutes
The key to staying with your chosen entourage at Carnival, particularly when you're in a crowded area, is to keep up. Don't get distracted, don't complain if your feet hurt, and don't expect anyone to wait for you when you're all on the move. It sounds brutal, but it's necessary.
7) If you get separated, do not panic
If you do become the friend who gets separated from the group, either head back to the sound system where you started (or were on the way to), or park yourself in a spot where you can at least enjoy some music or food. You're at a street party – enjoy it. You'll probably end up having fun on your own anyway.
8) Pace yourself
Avoid burning out at Carnival by giving yourself time to rest as often as possible. Take a seat wherever you can, and drink plenty of water, too.
9) Don't bother paying extortionate amounts to get into a nearby bar for an after party. Try to find a friend who lives locally – you'll have a much better time
If you know someone who lives close to Carnival, they'll probably be up for a low-key after party of sorts too.
But if you don't think you can stomach the frenzied atmosphere of mas (short for masquerade) on Carnival Sunday or Monday, go to Panorama (the UK National Panorama Steelband Competition) at Emslie Horniman Pleasance park the night before. It's a beautiful event, full of the uplifting sounds of steel pans, food and dancing, but much smaller, with plenty of room to sit down.
Above all, remember that the best way to approach Carnival is with an open mind and an open heart.