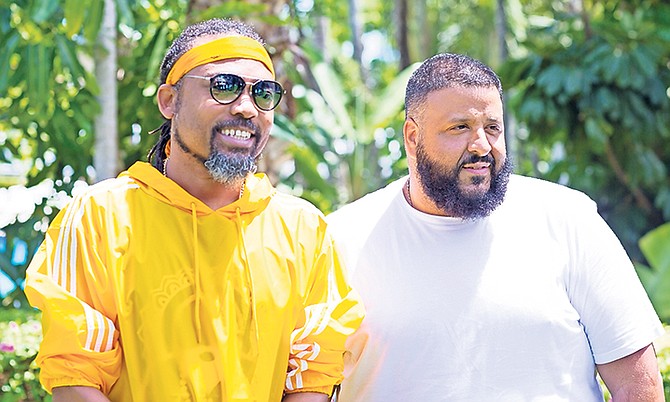 SOCA enthusiasts have been warming up for weeks now, attending fetes and preparing their costumes. But tonight is the night, and the main event, the Bahamas Carnival Experience, is finally here. It promises to be 72 hours of non-stop partying, with entertainment provided by top international acts like DJ Khaled, Machel Montano and Destra Garcia.
This year's Bahamas Carnival Experience (formerly Bahamas Junkanoo Carnival) is being presented by the private entity Polantra Media over three days.
Bahamian favourites such as Dyson Knight, Wendi Lewis, D-Mac, Sketch and Rik Carey will also perform throughout the weekend. DJ Khaled ("I'm the One") will host the event.
At a special press conference at the Ocean Club yesterday, DJ Khaled declared his love for the Bahamas.
"I love the Bahamas, especially Nassau. It's like a home to me. So I am excited to be here for the Carnival show. I have a lot of surprises," he said. Accompanied by his one-year old son Asahd to the press conference, DJ Khaled said he is excited to join Machel Montano and other soca stars on stage this weekend.
"Saturday night is going to be incredible. I can't wait to touch the stage. I am going to be in the crowd and on stage watching the show. I am going to be watching all of the Bahamian artists to be coming out," he said.
This will be soca king Machel Montano's third time performing at the Bahamas Carnival. He said while he does not know exactly how he will deliver his performance tomorrow night, one thing he is certain of is that it will be full of energy.
"It is good to be back in the Bahamas. This is my Carnival number three here and I am really fortunate to be here with my brother DJ Khaled. We had one of the best moments last year putting soca on display at the Barclay's Centre. It was a good feel for all the people in the Caribbean to see a mainstream icon like Khaled who is a positive individual." said Machel.
Machel's performance last year was rained out and some revellers who had been waiting to see the soca favourite left the concert, while others braved the downpour and stayed throughout Machel's entire set.
"Last year I came to Bahamas Carnival and it rained. But I stayed on stage and did it with the DJ," he said. "This time around we are going to make it rain, but in a good way. We are going to celebrate hard this year."
As the demand for Bahamas Carnival has grown over the past three years, representatives of Polantra Media said they want to show locals and visitors alike that they are capable of the putting on a world-class event.
After the government decided to privatise the festival, the Polantra conglomerate, made up of Trevor Davis, Kenny Mackey and Sebas Bastian, decided to step up to the plate.
"It is our goal to organise a world-class event with the focus of bringing the experience of the best live stage, the best performers, while also ensuring local businesses profit from this year's event," said Mr Mackey.
"We want individuals to leave with a 'ooo, ahh' feeling. We stress the word experience because we want people to come out with high expectations and want them to be fully fulfilled as the fete continues."
Through his entertainment company, Alpha Sounds, Mr Davis has brought countless top musicians to the Bahamas and has pulled off a number of successful events for over a decade.
"My role is to provide the experience, to bring the best artists, create that kind of excitement and thrill that can only be seen in the Bahamas," he said.
"Last year we saw Machel Montano and Beres Hammond on one stage. And many people wondered who was able to have them both perform on one ticket. Once again, we are attempting to top that this year by adding Khaled. We want persons to come out and enjoy the full weekend of activities," said Mr Davis.
The addition of hit producer and media personality DJ Khaled to this year's line-up was a calculated decision, as Polantra believes he will provide international appeal and guarantee international exposure.
"We wanted someone who would keep the people engaged before the events, with interactive social posts and a broad appeal, as well as during the show, bringing the 'vibez', and Khaled delivers on all of the above," said Mr Mackey.
BTC will support Bahamas Carnival as this year's title sponsor.
There are three night of concerts that will feature a slew of artists. Here is the breakdown of the schedule:
• Insomnia, Friday, May 4
This is the happy hour kick-off event starting at 7pm. It will be followed by tonight's fete featuring performances by Destra Garcia ("Lucy"), Farmer Nappy, D-Mac, Ultimate Rejects, Sketch and more. All roads lead to Clifford Park for this mega party.
• Road March, Saturday, May 5
The march's route goes from the Thomas A Robinson Stadium, down Thompson Boulevard, towards West Bay Street and on to Clifford Park. It begins anytime between 10am and 11am depending on how long the bands take to line up, according to a representative from Bahamas Masqueraders. There is also no set ending time, but the march is expected to last a couple of hours.
• Amnesia, Saturday, May 5
Tomorrow night's concert-goers will get to see the soca king Machel Montano himself take the stage, in addition to Mr Vegas, Dyson Knight, Ricardo Drue, Wendi Lewis, Rik Carey and more. It all goes down at Clifford Park starting at 7pm.
• Unleash, Sunday, May 6
The Bahamas Carnival Experience will culminate with 'Unleash', an ultimate cooler fete at Arawak Cay starting at 2pm. It will feature headliner Skinny Fabulous and friends.
Tickets for the Bahamas Carnival Experience can be purchased at Airbrush Junkies, Outback Steakhouse, Quality Home Centre, Suncash, Club One Fitness Centre and Mario's Bowling & Entertainment Palace. Day passes start at $25 and weekend passes at $60.