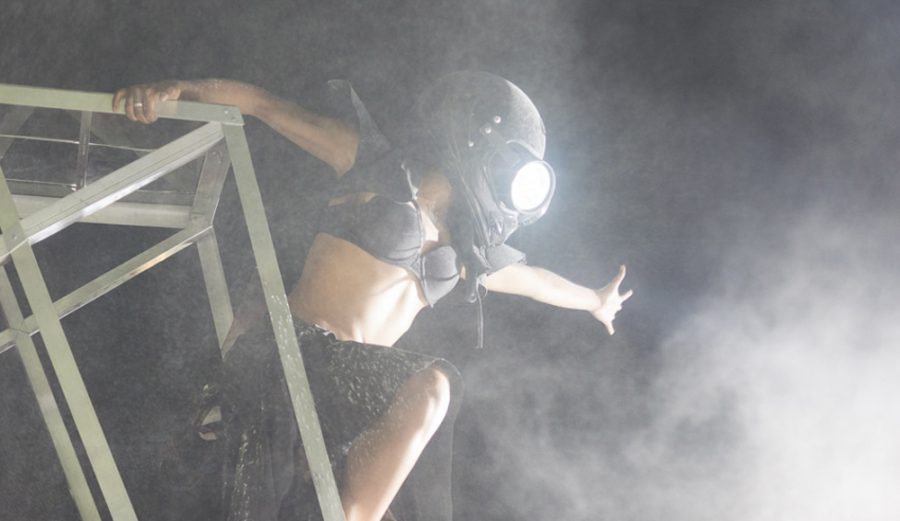 Although the weather forecast calls for rain this weekend, the Ulrich Museum of Art is inviting everyone to experience a warmer climate through the music, dance, parade, and pageantry of the Caribbean.
The Ulrich spring exhibition "En Mas: Carnival and Performance Art of the Caribbean" opens at 7 p.m. Saturday.
The show contains the works of nine exhibition artists exploring the history of performance art related to the traditions of Caribbean carnival. The exhibition has shown at several institutions around the country and one in the Caribbean. The Ulrich Museum is the final stop on the exhibition's tour.
Sally Frater, curator of modern and contemporary art at the Ulrich museum, described the exhibit as a dynamic and deftly-curated exhibition.
"Art functions as a portal that can collapse distance, broaden perception, and facilitate deeper understanding," Frater said.
"I feel that 'En Mas' does that in a way that showcases the multi-layered-ness of the Caribbean to those in Wichita who might be unfamiliar with the region while introducing the work of an accomplished group of artists to visitors to the Museum," Frater said.
The first traveling exhibition that the Ulrich has hosted in more than a year comes jam-packed with opportunities to discuss contemporary art discourse.
Museum-goers will also have the chance to try Creole favorites, roadside fare, regional ingredients, and spice blends of the Caribbean with fresh fruit drinks, and rum punch while listening to reggae, calypso, and soca music.
Jennifer Lane, public relations and marketing manager at the Ulrich, said 'En Mas' provides an opportunity to have a conversation about the duality of carnival.
"You will find people celebrating carnival in almost every country with a population of people that come from the African diaspora, most Caribbean islands participate in some form of carnival, and even Mardi Gras in the United States is an offshoot of Carnival," Lane said.
"While the work in 'En Mas' is beautiful and sometimes playful, carnival originally began as a subversive act of performance art, and this exhibition explores that as well," Lane said.
Curated by Claire Tancons and Krista Thompson and organized by Independent Curators International (ICI) in New York, the exhibition considers the connections between carnival and performance, masquerade and social criticism, diaspora and transnationalism.