2015 Carnival in Jamaica, Take A Week Off Work, It's Going To Be Just That Good
As a Jamaican you will get Easter Friday and Monday off and therefore only need vacation for Tuesday to carnival Friday.
As a foreigner you need to arrive Easter Friday and leave The Monday after carnival.
As the renaissance starts to take shape for Jamaica carnival 2015 I want to make a suggestion.
Take 4 days vacation leave for carnival if you live in Jamaica and if you are coming from overseas stay for 10 days.
Carnival in Jamaica falls 2 short months after Trinidad carnival.

-if you missed Trinidad carnival it's a perfect "make up" carnival shortly after to be enjoyed while your friends suffer their tabanca
– if you went to Trinidad it's a fantastic way to both relive the memories via the music but to create new ones as the "road march" in Jamaica is a totally different, but incredibly enjoyable, experience.
-if you are Jamaican and just getting into carnival. Our carnival season is good enough to give you the feeling of euphoria every reveller craves.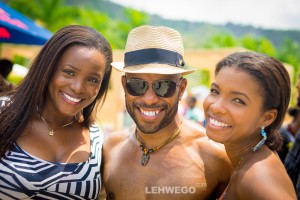 The Back bone of our Carnival week lineup of fetes includes:
Easter saturday April 4 Frenchmen breakfast fete "Rise up" and Bacchanal Beach Jouvert in Ocho rios
Sunday in Portland- Marbana and Trini Jungle Juice's Cruise in ocho rios
Monday morning in Portland- Canboulay
Monday night in Kingston is Dusk
Tuesday is "Tabanca Tuesday" in Kingston
Wednesday is "I love soca"
Thursday is Frenchmen "Blocko" and likely "Pandemonium" with Machel.
Friday night is our traditional Jouvert night with Bacchanal Jamaica Jouvert and others.
Saturday morning is "Sunrise breakfast fete" one of my main highlights for the season.
Saturday night is "Glow" and "Frenchmen Bazodee".
Last year we had over 30 fetes for the season in total though and  I am sure we will easily beat that number this year.